Marius Noss Gundersen - classical guitarist and composer.
Norwegian guitarist Marius Noss Gundersen, born 1973, acquired his education at the Agder Conservatory of Music and the Norwegian State Academy of Music. He studied Advanced Instrumental Studies at Guildhall School of Music and Drama in London, being the only guitarist to receive a full scholarship for the academic year 2000/2001. He is also holding a Master's degree in Performing Arts from the University of Agder. Marius has had the privilege of receiving tutelage under teachers such as Per Kjetil Farstad, Per Skareng, Sven Lundestad and Robert Brightmore, and has participated in master classes with some of the world's most prominent guitarists, such as David Russell, Roland Dyens, Marco Socias, the Assad brothers, Peter
Sculthorpe
and Carlos Bonell. In addition to guitar studies Marius has had the pleasure of studying composition with Johan Varen Ugland, Kjell Habbestad and Asbjørn Schaathun and has received great recognition for his compositions around the world.
"He shows great talent in composing. His "5 Cenas Brasileiras" was especially nice to listen to. 5 miniatures that really pleases the ear." 6 of 6 stars, Smaalenenes avis
Colourful Guitar Music
The distance between Norway and South America is huge geographically, culturally as well as musically. Despite these differences, classical guitarist Marius Noss Gundersen manages to balance delicately between European classical music and Brazilian samba and Bossa Nova. Be it a prelude by the Baroque master J. S. Bach or a tune by Antonio Carlos Jobim, Marius excites and seduces his audience.
"Gundersen has a wonderful feel for the Bossa Nova rhythms of Brazil. His touch is so light and delicate, and his rhythms are so subtle and supple, that I'm sure he has made many native Brazilian guitarists jealous." Jazzmusicarchives.com
Recognition
Marius has received numerous awards and prizes, alone and with other musicians, and he's received great reviews for his recordings as well as his performances. Together with Gjermund Titlestad he has formed the guitar duo "Duo Gvito", who have received great recognition from critics, colleagues and their audience around the world.
More information on the duo is available at
www.gvito.com
.
"Marius Gundersen and Gjermund Titlestad add to the music the colourful nuances it deserves. Their playing is precise and playful but also shows great musical understanding and grand expression in energetic performances." - Vårt Land
Collaborations
He has worked with renowned musicians such as professor Sven Lundestad, Cecilie Rønning, Dag Einar Eilertsen, Luis Landa-Schreitt and Kjersti Stubø, and some of Norway's most prominent composers, Ketil Bjørnstad, Lars Horntvedt and Eivind Buene have written music for him. One of his collaborations is the critically acclaimed "Bitt av Brazillen"
"It is rare to hear a band who appear so respectful for each member's musicality and in that way achieve a unique togetherness. This is candy for the ear." - Gjengangeren  
Live
As well as several live performances on radio and TV, Marius has performed in Norway, Sweden, Denmark, England, Germany, France, Mexico, Brazil and USA.
Marius' unique combination of his own compositions and Brazilian music makes his concerts colourful and exciting. His dialogue with the audience and his ability to describe the music he performs with humour and storytelling fascinates the audiences as well as critics.   
"Gundersen has an exceptional purity of technique and effortless virtuosity." - Minor7th.com
Click here to download info
Click the pictures to download
Please give credit to photographer Tomas Moss (www.icu.no) when used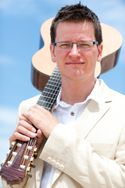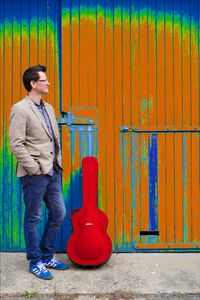 The following composers has written music for Marius:
Ketil Bjørnstad
Sven Lyder Kahrs
Bjørn Norvall Hoemsnes
Magnar Heimdal
Eivind Buene
Kjell Marcussen
Agustin Castilla-Avila

Marius has played together with a number of fantastic musicians and ensembles:
Gjermund Titlestad
Sven Lundestad
Åshild Skiri Refsdal
Roy Henning Snyen
Camilla Jonstang
Heidi Tveita
Bjørn Vidar Ulvdalen
Cecilie Schilling
Jon Danielsen
Martin Hatlo
Marius Roth
Christina Fuchs
Per Samuel Skrede
Marit Kristine Sylta Risnes
Trond Magne Brekka
Luis Landa-Schreitt
Borre Vocale
Oslo Guitar orchestra
Nanset wind ensemble
The Royal Norwegian Navy Band

Performances:
9. Festival Internacional de Guitarra de Morelia – Turne 1999
III Festival Internacional de Violao de Belo Horizonte i Brasil 2007
Soloist KNMM 2007 (Concerto de Aranjuez)
School concerts 2008, 2009, 2010, 2011, 2012
Rio de Janeiro 2007
New York 2006
New Orleans 1999, 2005, 2006
Norwegian Guitar Festival 1999
Bergen International Guitar Festival 2006
Vestfoldfestspillene 2000, 2001, 2005, 2007, 2010
Eidsfossfestivalen 2000
Kulturnatt Larvik 2005, 2006
Bolivar Hall Guitar Festival – London UK – 2001
The Versatiles Guitar Series – Cardiff UK – 2001
Askøyfestivalen 2002
Vinterriss 2012
Orgelbrusfestivalen 2012
Moulin des Arts, Entrecasteaux 2013
Château de Carcès France, 2013
Oslo Concert Hall 2013
Studio Niculescu, Berlin - Germany 2013
Kulturzentrum Lutherhaus, Osnabrück - Germany 2013
Chapelle du Martrou, Agen - Guitaromania France 2014
Mesnil Saint Martin, France 2014

Awards/prizes:
Winner of Steinar Andersen award Norwegian Guitar festival 1994
Winner of full Scholarship at Guildhall School of Music and Drama, the only guitarist 2000/2001.
Horten Community Cultural Award (1997);
1st prize Portalion Guitar Chamber Music Competition - London UK (2000);
2. prize Open Strings International Guitar Competition - Osnabrück / Germany (2005);
Norwegian State Cultural Grant (2006 & 2010)
Vestfold County Council cultural award (2007)

CD's:
CD with music by Sommerfeldt, Granados and Bach – Duo Gvito 2002
CD with South American music - Duo Gvito 2005
CD - solo – 2006
CD with Norwegian and Brazilian music – Duo Gvito 2008
CD– solo – 2009
CD - solo - 2012