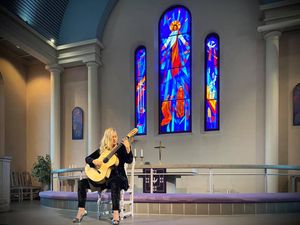 Christina Sandsengen, one of Norways great talents on classical guitar har toured world wide and received outstanding reviews for her many solo concerts. She has studied with some of the leading professors in Norway, Spain and France, been featured on numerous TV and radio shows and her debut recording «Shades & contrasts» has received fantastic reviews all over the globe.  
Seasons, that I composed for Christina is a suite in 4 movements that reflect the four seasons. The music is inspired by Norwegian folk music. SPRING is a little dance, SUMMER reflects lazy days by the sea, AUTUMN is rich in colors with falling leaves and WINTER begins with a clear Norwegian landscape where the snowy weather becomes more and more intense.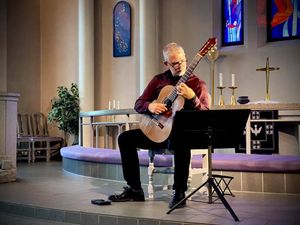 Randall Avers is a graduate from Oberlin Conservatory, Paris Conservatory (CNSMDP), Norges Musikkhøyskole and the University of Arizona. His reputation as an artist began in his late teens after winning awards in international guitar competitions such as the Guitar Foundation of America, Yamaha France and René Bartoli.  
He has been invited to perform and teach in Universities and Conservatories around the United States and Europe over two decades. In 2010, Avers embarked on a two year project supported by the Norwegian Department of Culture to research the compositional and improvisational style of ECM recording artist Ralph Towner. He is known for his collaboration with Benoit Albert in the guitar duo Les Frères Méduses, praised as one of the leading guitar duos on todays global music scene.
  Musical Evolution, that I composed for Randy is a set of variations on an original theme by my self. Each variation is inspired by an era in music history: the        Renaissance, the Baroque, Classic, Romantic, Impressionism, Modernism, Blues and Jazz.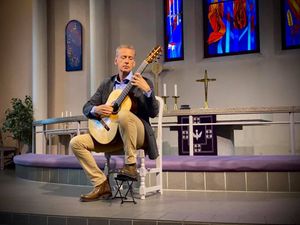 Gjermund Titlestad started playing recorder and flute at the age of four, and switched to classical guitar at the age of 16. Three years later he was accepted at the Norwegian State Academy of Music where he completed five years of training, graduating with the highest marks possible. Gjermund has played concerts at numerous venues around the world. He has toured Japan, Brazil, Mexico and the USA, made appearances at festivals in the UK, France and Germany as well as in Sweden and his country of birth, Norway. I'm proud to say that Gjermund is my musical partner in crime and we have played together as «Duo Gvito» since 1998 with numerous concerts, tours and recordings together. 
Preludes, that I composed for Gjermund Titlestad is 5 preludes with a nod to composers like Heitor Villa-Lobos and Augustin Barrios Mangore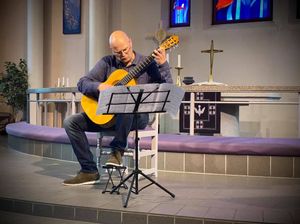 Thomas Kjekstad studied at the Norwegian State Academy and since graduating he has done extensive touring, concert playing, recording, commissioned new music and played with ensembles like 
Oslo Sinfonietta and Affinis Ensemble. He has played with numerous large orchestras with a wide selection of repertoire including several world premiere performances. He also formed the duo Twitter Machine together with the violinist Lars-Erik ter Jung. He's been nominated for Spellemannsprisen (Norwegian Grammy) and plays the classical repertoire just as well as contemporary music.
Lament, that I composed for Thomas Kjekstad was composed after Trump won the election in 2016. Musically, the piece reflects my        frustration and shocking reaction to what was happening around the world at this time, a lament.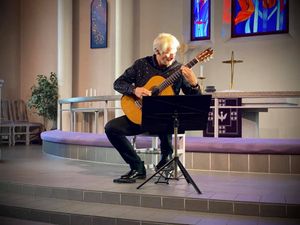 Sven Lundestad was the first classical guitarist to have a debut concert I Norway in 1974 and became the first professor of classical guitar at Norwegian State Academy in 1997. He's recorded numerous albums as a soloist and in collaboration with others. Sven has released a huge amount of academic literature helping generations of Norwegians to play guitar. Hes been guest professor throughout Europe and has toured all over the world. I was lucky enough to study with Sven for 2 years at the State Academy and proud to call him my friend.
Sonata - Echoes of Brazil, that I composed for Sven Lundestad is a sonata in 4 movements, where each movement is a musical reflection of places I have visited in Brazil. (Lapa in Rio, Corcovado in Rio, Farol de Itapua in Salvador and Maracana in Rio) Musically,    it is inspired by genres such as Samba, Bossa Nova, Choro, etc.